MŨI NÉ CITY- TOP THINGS TO DO IN MUI NE
Welcome to Mui Ne
Once upon a time, Mui Ne was an isolated stretch of shoreline where pioneering travellers camped on the sand. Times have changed and it's now a string of beach resorts, which have fused into one long coastal strip. These resorts are, for the most part, mercifully low-rise and set amid pretty gardens by the sea. The original fishing village is still here, but tourists outnumber locals these days. There are a handful of luxury hotels (and a smattering of cheap guesthouses) but Mui Ne is mainly a midrange resort.
Kitesurfing is a huge draw – there are several excellent schools and world-class wind conditions between late October and April. One major problem the area faces is the steady creep of coastal erosion, particularly around Km 12.
It's almost impossible to get lost in Mui Ne, as everything is spread out along a 10km stretch of highway.
 
Things to do in Mui Ne
Quad Bike Across the White Sand Dunes
Take a ride on the Mui Ne sand dunes for a thrilling spin through the sand, up and down hills and along the edges of big drops. You always have the option of walking but a quad bike will get you to the top of those huge sand dunes and that you'll spot and want to go to the top of.
Pro Tip: To save money rent a quad bike with a friend or team up and split the time with a group so you each get a go for a fraction of the price.
Try Kite Surfing or Wind Surfing
Wander Through the Fairy Stream
Kick off your shoes and walk through the crystal clear, ankle deep water of the Fairy Stream. It may seem like a tourist trap but this is one of the best Mui Ne attractions. It is actually quite quiet so you can enjoy taking in the scenery of the limestone formations around you. The colours mixed together of brown, red and yellow make for Instagram-worthy pictures and there is a small waterfall at the very end.
Ride Down the Red Sand Dunes
Guaranteed you will be offered a plastic sled upon your arrival at the red sand dunes by women and children. If you're seeking a bit of adrenaline it will be a fun ride down the slopes of sand. Or you can choose to stroll through the sand and see the beautiful views.
Find a Beach to Yourself
The main beach, Mui Ne Beach, will be busy in the morning from the kite and wind surfers but is quiet in the late afternoon and evening. Hon Rom beach is more north, after the red sand dunes and is popular among Vietnamese tourists. Suoi Nuoc Beach is more popular with westerners and has that perfect white sand, it is also just after the red sand dunes.
Fishing Village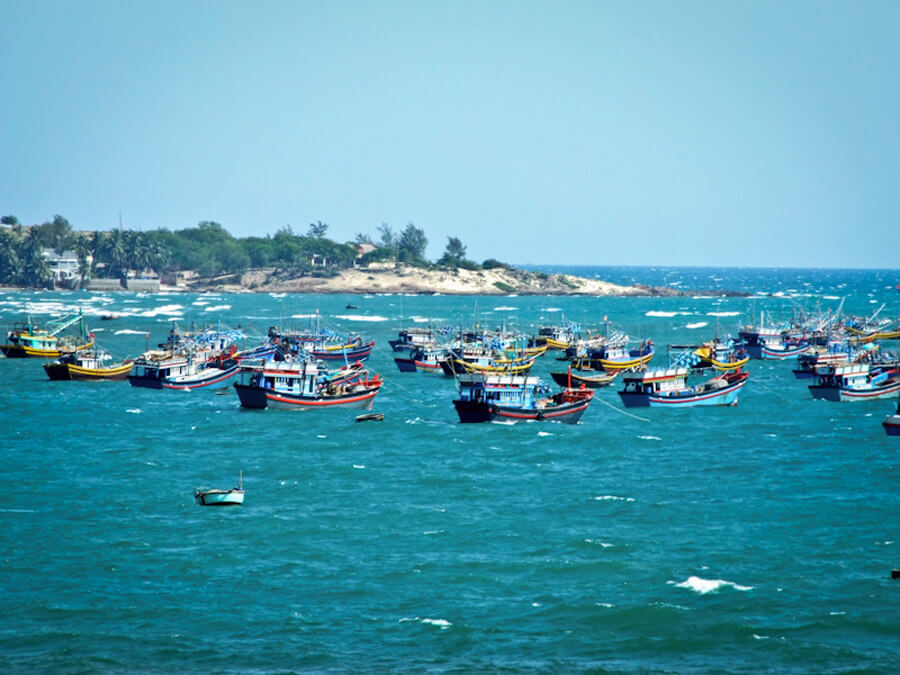 Watch Sunset and Sunrise
Chill Out at Dragon Beach Bar
The main beach is lined with many options of bars and restaurants ready to put a drink in your hand and a plate of fresh seafood in front of you. My favourite is Dragon Beach Bar, part chilled out bar, part club. Find bean bag chairs, daybeds, shisha pipes and even a swimming pool with top DJs playing the tunes. Watch sunset from here, dance into the early morning or listen to the waves crash against the shore.
For getting around Vietnam I highly recommend bus as it's cheap, easy and a comfortable way to get around the country. Plus you save money when you take overnight buses and Vietnam has awesome sleeper buses!
There is a bus from Ho Chi Minh to Mui Nethat is about 5 hours and departs 5 times a day with one being partially overnight. Buses can also be taken from Danang and Hoi An, or basically anywhere in Vietnam!
Another option is the Easy Rider Tour which is extremely popular. You get to experience Vietnam as the locals do and see the county from the back seat of a motorbike driven by a local.
Getting Around Mui Ne
It is Vietnam so rent a scooter and get exploring! Sights are within driving distance with the furthest being the Mui Ne white sand dunes which are about 25km away from the centre. Scooters can be rented at many places such as accommodation along the main strip.
Or if you don't fancy driving and would like to see all of Mui Ne in one day do a day tour that includes sunrise or sunset and get to experience it all with ease.